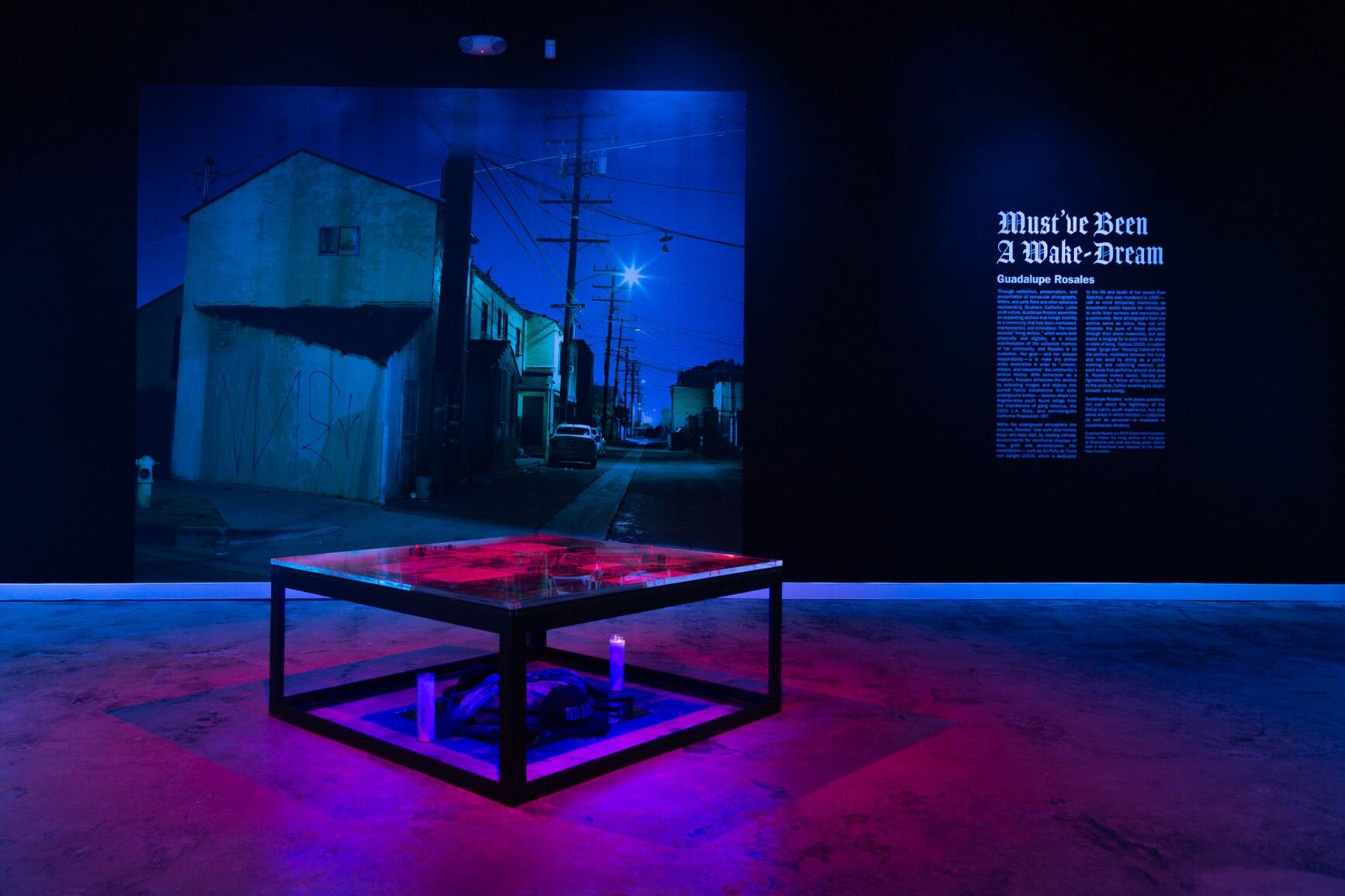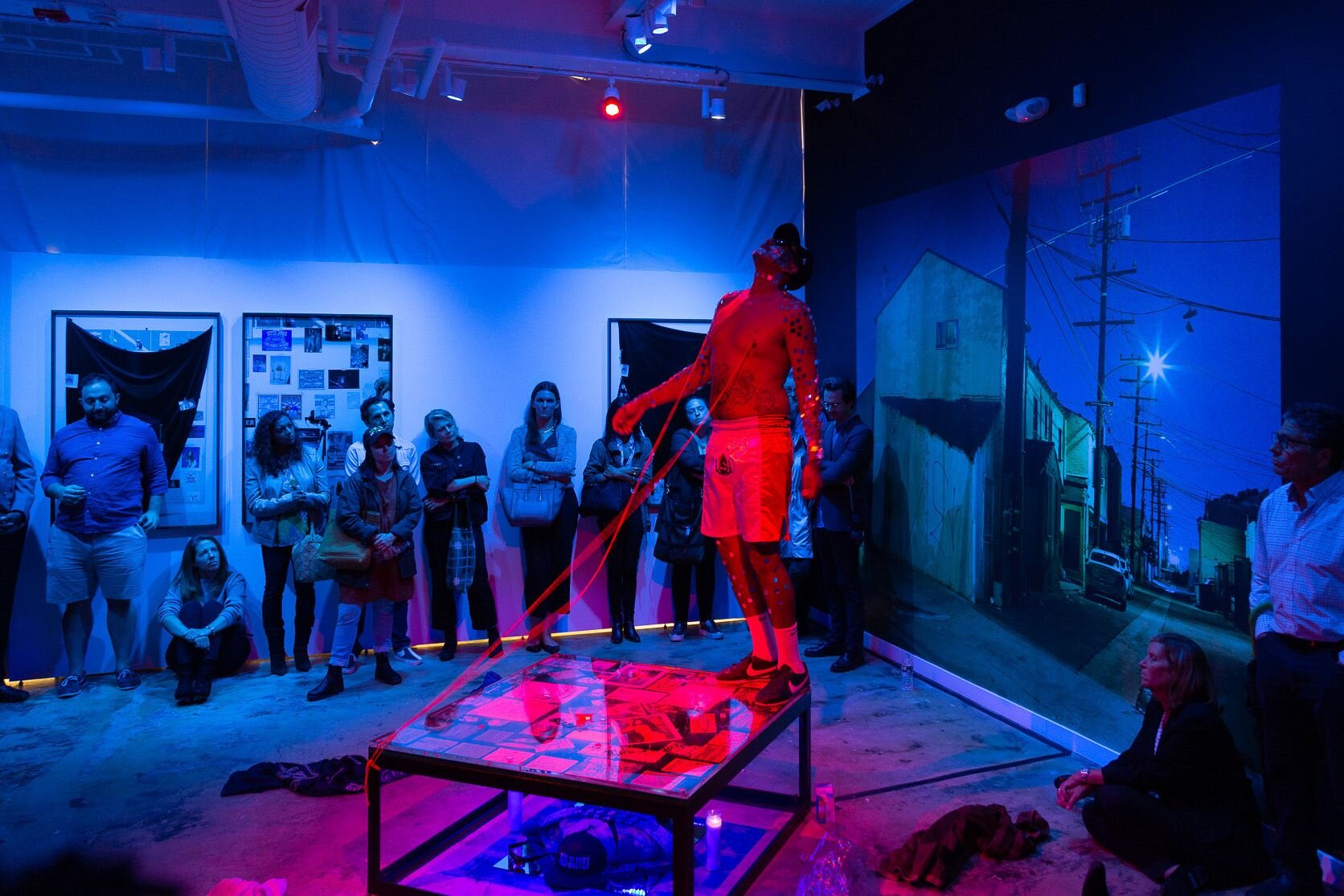 September 6th-October 18th
Through collection, preservation, and presentation of vernacular photographs, letters, and party fliers and other ephemera representing Southern California Latinx youth culture, Guadalupe Rosales assembles an expanding archive that brings visibility to a community that has been overlooked, misrepresented, and criminalized. Relying on crowd-sourcing as a primary means to collect images and stories, Rosales first attracted a mass following for two participatory, archival projects on Instagram: Since 2015, Veteranas & Rucas has traced the collective memory of Latinx individuals, families, and friends, across generations in Southern California and beyond. Map Pointz, created in 2016, chronicles the underground party and rave scene in "SoCal" during the 1990s. Together, the two projects have nearly 250,000 followers.
Must've Been A Wake-dream expands Rosales' archive through collaborations with artists and the activation of images, objects and ephemera into surreal hybrid installations that echo underground parties—spaces in which Los Angeles area teenagers found refuge from the trepidations of gang violence, the 1992 L.A. Riots, and anti-immigrant California Proposition 187. Within the party atmosphere she conjures, Rosales' new work also honors those who have died, by creating intimate environments for communal displays of loss, grief, and remembrance. Here photographs from the archive serve as relics; they not only emanate the aura of those pictured through their sheer materiality, but also evoke a longing for a past time or place or state of being. Rosales writes, "I came to realize that we can forget certain details about the past, holding on to just a few. In time, we tend to lose those moments too. Through conversations and sharing artifacts with people who grew up like me, we can reminisce together—filling in the gaps or finishing each other's stories if someone has forgotten the details of an event or memory."
Must've Been A Wake-dream also features works by Rosales in collaboration with fellow artists: a photographic triptych by Los Angeles' Paul Mpagi Sepuya in response to Rosales' archive explores perceptions of the body and the apparatus of the camera and archive; artist Gabriel Rivera's contribution speaks to the exhibition's more difficult issues–-death, grief, trauma, longing-–in the form of an intimate reading in response to Rosales' ongoing altar dedicated to those who she has lost in gang violence; and Rafa Esparza offers an performance that takes Rosales's archival practice as a point of departure to consider the body as a locus that preserves, carries, moves, and transforms memory but also intervenes in the continuum of a life archived. In her persistent and poetic recalling of personal and collective memories, Rosales preserves and reframes marginalized histories into an authentic and expansive record of a particular community, identity, and image.
Must've been a wake-dream is presented in celebration of Rosales' 2019 Gordon Parks Foundation Fellowship. Recalling Gordon Parks' legacy, Rosales says, "My work with archives, like Gordon Parks' photographs and writing, counters forces of xenophobia, racism and injustice that are perpetrated by mainstream society. I see myself continuing Parks' charge through my work, collecting and broadcasting the voices of my community."
Statement:
I sit here writing this the day after the shootings in El Paso. Part of me feels powerless, but I constantly remind myself that I am not.
Been thinking a lot about the importance and need to do the work I do as an artist. My thoughts are heavy on erasure and visibility and the history around these two concerns. The ongoing racial injustices, violence against POC, our mass incarcerations at a higher rate, and the most recent shootings targeting Latinos amplify the urgency and crucial need to preserve my history. When I say "my history," I say it with the belief that my story is also that of thousands of other Latinxs' stories left out.
90s L.A. culture is so complex. When I was growing up in L.A. in the '80s and '90s, gang violence and deaths were at a peak. Most schools didn't know how to be supportive, our parents worked long hours, and we just ran the streets day and night. At the same time, we had a sense of home, loyalty, and family. It is time to understand and acknowledge who failed who, because many of the things that happened then are still happening now. The '90s brown experience has been easily swept under the rug, underrepresented, and misrepresented. L.A. (Latinx) culture isn't linear, and for this reason it is hard to explain in a simple sentence, but I do know we are complex and should not be underestimated. Youth has so much power to change the world—we create subcultures, movements, music, fashion, and languages; we are on the front lines.
When I invite friends and artists to make work in response to the archive using their bodies and intuition, I am curious to see how they view themselves in relation to the archive and to see what similarities and differences we have. While preserving an archive I am also paying attention to the ways this material affects me—going back to my old stomping grounds to see what is still there and what isn't—sitting with my emotions and memories the archive brings out in me. Emotions and memories that bring both pain and pleasure.
I have a commitment to the camera, and my desire is to document and capture the essence of the city I live in.
Guadalupe